Because I talk about dieting so often, people are always surprised to find out that I don't even own a scale. Well I do, actually, but it's ummm… broken. 
HEY. It just broke by itself, okay??? Stop assuming. And snickering. 
So yeah, I pretty much gauge my weight loss/gain by how my clothes fit and what I see in the mirror, and only weigh myself when I go to see the doctor. And even then I tend not to pay the scale any mind. Well, not much mind anyway.
If you've ever seen this Steve Maraboli quote I drew and posted a couple of times here and on the Fabstagram, you'll understand why. 
Here's the full quote from Dr. Maraboli's book Life, the Truth and Being Free, which I came across today and thought was worth sharing.
Yup.
Definitely something to read (and reread, if necessary) the next time you let the numbers on a stupid scale ruin your day and/or self-esteem. 
You are beautiful, my friend. Never let a mindless machine tell you otherwise. :)
It occurred to me this weekend, as I sat in the middle of a roaring, World-Cup-watching pub crowd, how easy it is to become more and more of a hermit, the older you get. 
Honestly, if it hadn't been a dear cousin's going-away party, I would've been outta there in 5 minutes. And I swear it had nothing to do with the fact that I am probably the only person in my family/group of friends who cares nothing about the World Cup. 
Bars and pubs and clubs just really aren't my thing anymore, I guess. It's hard to enjoy them when (1) you no longer smoke…
(2) your last experience with alcohol made you swear off drinking forever…
and (3) when you enter a bar, the waitresses seem a little flummoxed to find you there.
BAH. 
I do realize I need to get out and socialize a little more, though. Maybe not in smoky, noisy pubs, but elsewhere. Because as yesterday's slightly morbid Life Countdown infographic showed, we really don't have all that much time. And it would be nice to spend the time we do have making and maintaining meaningful connections. 
For some terrible reason I've had to go to quite a few wakes and funerals this month, and I came across so many people I hadn't seen in ages…
…and the one thing I found myself saying over and over again was "It's so great to see you! I just wish it were under better circumstances."
People say that a lot, I think. But here's the thing…"Better circumstances" actually present themselves EVERY DAY. And we so rarely take advantage of them. That is such a shame.
There's a saying by Warsan Shire that I came upon once.
While it's really NOT the saddest thing in the world (a little exagg there, Warsan. There are much sadder things.) it's still pretty sad.And it made me think about people I've actually called and considered BEST friends at one time or another, who are now barely a blip on my Facebook feed, and I was like "Omg. What the hell happened??" 
No blame, no grand betrayal. No drama. Just time, I guess, and life changes, and maybe a little bit of laziness. 
Perhaps not everyone in your life is meant to be a big part of it forever. But hey. There's no need to lose touch completely either.  And as much as your lazy body or too-busy schedule or aversion to traffic might try to tell you otherwise — seeing each other on Facebook is NOT THE SAME as seeing each other in real life. 
So let's go! Let's get out there, climb out of our hermit caves and comfort zones, and make a call. Connect with an old friend this week, and spend some quality time catching up. There are too many strangers in this world already. Don't be one of them. :)
Here's a random reminder (c/o this adorable - if somewhat depressing - infographic by Exec) to get out there and do something that means something this week. Because GAH! The countdown of life is shorter than we think.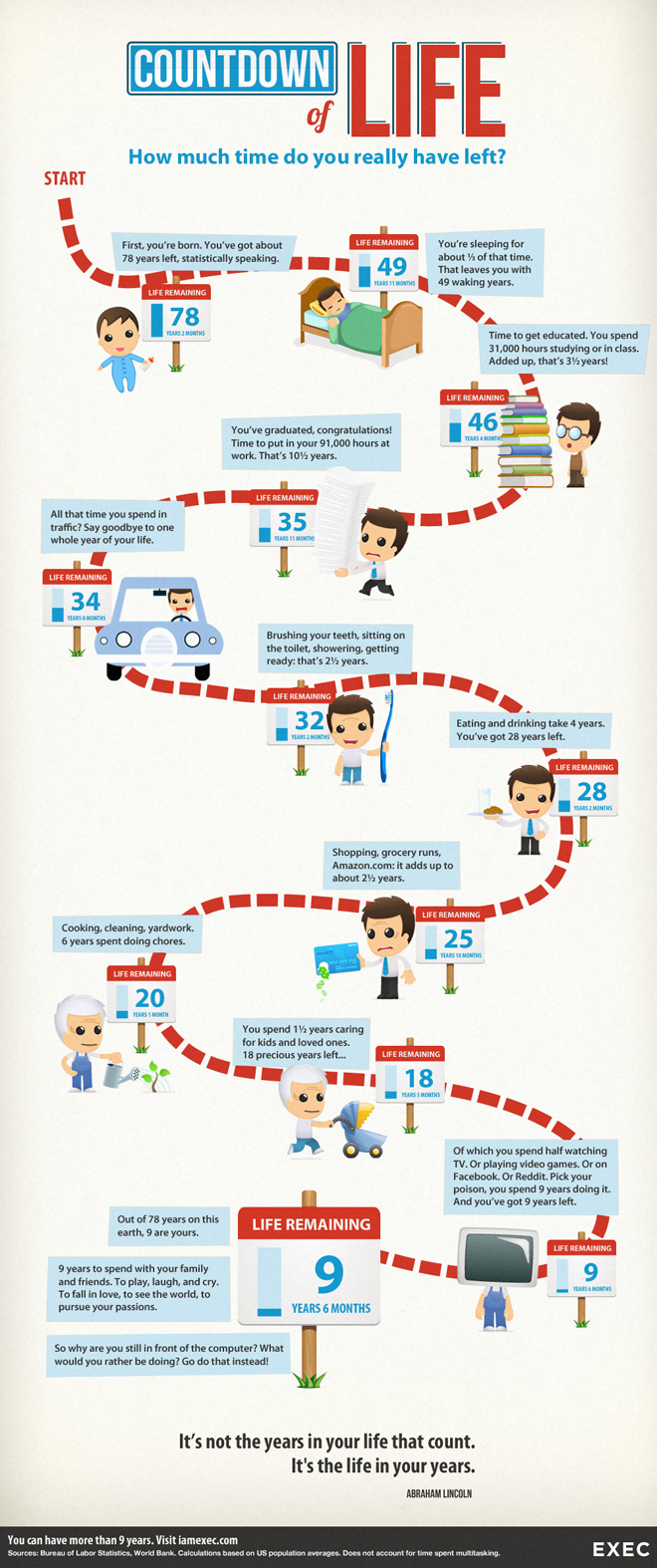 That's right. Get offline and go live your life, in real life. I'll do the same. After a brief nap. :)
Have a great week ahead, everyone!
Yes. I know. I've been a useless blogger. I haven't been blogging much… okay fine, AT ALL… because the last week or so has been pretty crazy. It all started with an unexpected attack of insomnia that hit me out of the blue and seriously threw me for a loop. 
If you read this blog regularly, you'll know that for me, experiencing insomnia is kind of like going on a surprise trip and suddenly finding myself in OPPOSITE LAND. 

Because not only do I never have a problem going to sleep at night… 
It actually takes quite a bit of effort (and caffeine) to stop myself from falling asleep during the day too.
So lying wide-eyed and awake two nights in a row, in a state of "OMG I have to go to work in 2 hours!" panic as the sun started to rise was pretty strange and awful.
…More so because I had a TON of work, that I really couldn't do properly since I was basically running on fumes. This is how I ended up being the only loser still working at the office at 7pm during the Independence day holiday…
Bit of a bummer, that. 
Last week also found me back in the hospital, to have my cancer doctor look at my MRI results… which of course brought back some pretty nasty memories of my time in the chamber of abject horror…
On the bright side though, I'm happy to report that all my results were pretty good and that I remain cancer-free… Yippee!
But (back to the dark side) I'll have to have another MRI next year to check again… 
…aside from getting all the other regular checks (mostly embarrassing ones) that cervical cancer survivors have to go through every 3 months or so.
But hey, I'm not complaining. I'm well aware that I'm one of the lucky ones. This point was driven very painfully home to me late last week, when a dear aunt of mine passed away after her own battle with the big C. 
So yeah… I didn't really feel much like blogging after that, despite the wealth of writing material the loss of a loved one usually inspires. There are times when action and real-life interaction are more helpful than words, and this was one of them. 
Besides, any words I would have written would have run along the lines of something someone else already said anyway…
So that is that. Things have settled down a bit this week and my sleeping patterns are back to normal (thank God), so I should be blogging properly again soon. 
'Til then, have a wonderful day/week/rest of June. Cheers!